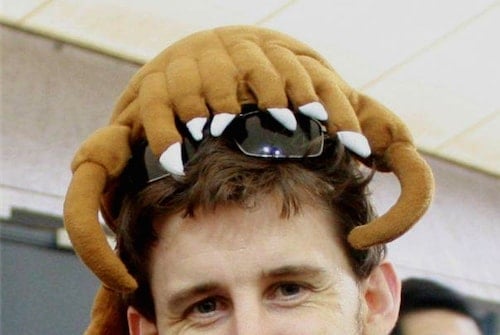 Benjamin Porter
Game developer (Moonman)
Who are you, and what do you do?
Hi, I'm Benjamin Porter, and I'm an independent game developer. My current project is Moonman, a procedurally-generated adventure game. I recently finished over 365 days of daily pixel art as a personal challenge.
What hardware do you use?
I've got a desktop PC (i7 4790) with 8Gb RAM, a GTX 960, and a 2TB HDD. I use a MS Natural Ergonomic Keyboard and have a Wacom Bamboo for occasional sketching. I have two ASUS LCD screens -- one for my code and the other everything else.
At home I've got a Toshiba Satellite P50 running Windows 8 and connected to a pair of Audio Engine A5's. I've also got a Mac Mini which I used to develop some iOS applications a few years ago. I've got a NES, SNES, N64 (which all still work) and a 360 (which doesn't). I use a Moto G for personal mobile communications and telephony.
And what software?
Most of my day is spent in either Microsoft Visual Studio Community 2013 or The GNU Image Manipulation Program (The Gimp). I use Notepad++ and VIM to edit some files (.py, .json, .txt, etc) and I used After Effects to cut together my recent trailer. I have a custom sprite editor called MoonPixel which I used to edit and organise sprites for my game, and I use Audacity to edit sound effects. Google Docs, Trello and lots of sticky notes help organise my life.
In my time off I draw pixel art, play around with Unity, or hang out on Twitter via Chrome.
What would be your dream setup?
I don't really get excited about hardware specs these days, but I do look forward to a time when it's easy to sit outside on a nice day and work on my games. Huddled over a laptop doesn't work for me and glare always makes it tricky to see laptop screens. Some kind of fast e-ink device that i can interactively scribble code on (and have it execute) would be nice. We are definitely moving in that direction, so hopefully it won't be too far off.