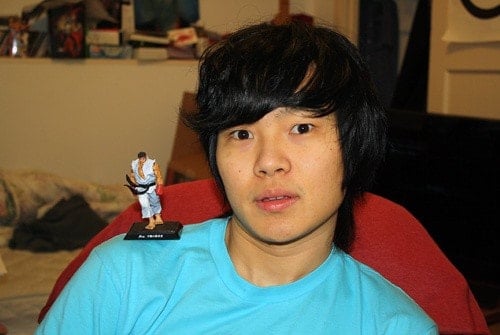 Derek Yu
Illustrator, indie game developer (Aquaria, Spelunky)
Who are you, and what do you do?
My name's Derek Yu and I'm a sometimes illustrator, rarely comicker, and mostly game developer! I'm probably best known for these three games: Eternal Daughter, Aquaria, and Spelunky. I also run TIGSource, an independent games community.
What hardware do you use?
I'm writing this on Cyberpower's X58 system, more or less unchanged from the default configuration. It's got an Intel Core i7-930 CPU, 6GB RAM, and an ATI Radeon HD 5750 video card.
I've also got a 17" MacBook Pro, which I've had for a couple of years now. I spent about half a year developing an iPhone game with it, but these days it usually boots up into Windows XP (using Boot Camp)! I named her Lucille, because I read somewhere that B.B. King named all of his guitars Lucille, and I thought that was pretty cool.
For digital painting and pixel art, I use a Wacom Intuos3 4x6" pen tablet. I prefer the smaller tablets for portability and space reasons. Also, I don't like moving my hand around too much!
For traditional drawing, I prefer Faber-Castell PITT Artist Pen Brushes and Pigma Microns of various sizes.
I also have an HP Photosmart C4580 All-in-One Printer/Scanner/Copier combo that I use mainly for printing boarding passes and scanning drawings. It works about as well as you would expect an All-in-One Printer/Scanner/Copier combo to work. That is to say, not well at all.
And what software?
The XBLA version of Spelunky is being developed in Microsoft Visual Studio 2008 (Standard Edition). The original game was created with YoYo Games' [Game Maker][game-maker], which I'm quite fond of. Diabolika, my iPhone game, was developed in Unity.
For painting, I use Adobe Photoshop CS4 and Illustrator CS3.
I use FRAPS for video recording.
My browser of choice is Chrome. I like that you can drag tabs around without reloading them (I watch a lot of movies while I work), and it seems to manage memory a lot better than Firefox. The interface is nice, too.
Other utility apps that I use a lot: WinRAR, Notepad++, and Filezilla.
What would be your dream setup?
My dream setup would be completely wireless. I have a Gordian Knot of wires and cables in the middle of my bedroom and it's not only unsightly, it's kinda dangerous!