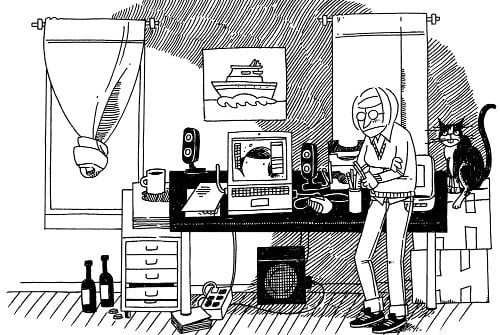 Dorothy Gambrell
Cartoonist (Cat and Girl)
Posted in cartoonist, mac
Who are you, and what do you do?
My name is Dorothy Gambrell. I draw the weekly cartoon Cat and Girl and biographical, donation-driven cartoons at Donation Derby and charts and miscellany at Very Small Array. I ran two year-long mail clubs and made and mailed out a board game based on "Continental Drift" and coasters of the three Graces (Kelly, Jones, Slick) and a video of "Kiss Me Deadly" that changed color based on how close each location was to the whatsit. Right now I live in Deep Brooklyn and spend days at Bloomberg Businessweek making charts and drawing pictures.
But that's not, like, who I am.
What hardware do you use?
I use terrible cheap pencils that will not be sharpened (not worth it, don't buy them, definitely don't buy a whole lot of them at once so you're stuck using them) and a white Pentel eraser on store brand 28lb laser paper. I draw with Uniball Deluxe Micros 0.5mm (nearing our Crystal anniversary), a rotating cast of pens with a slightly thicker line (current: Uniball Vision Elite 0.8mm), an HP scanner (nearing our Tin anniversary) and a five year old iMac (Wood! Oh, I can't wait to see what that iMac gets me). The best pens I ever had were in high school because, you know, I wasn't making a living from those pens. Now I'm used to the cheap-y stuff I draw with.
And what software?
Cartoons get scanned into the HP scanner as bitmap and cleaned up and colored in Photoshop. There are two small scratches in the scanner glass that I manually remove from every single thing that I do. At this point they are my family. They understand me. That's important.
Maps and charts are usually made in a combination of Illustrator and InDesign. And Excel of course! Excel. I've had cassette tapes made at wemaketapes.com and ordered licorice for licorice eyebrows at nuts.com and make tee shirts with Kurt Brunetto. I bought a paper cutter online. I read every Uline catalog. Mrs. Uline is the highlight. Always the highlight.
What would be your dream setup?
Have you had that dream where you remember your apartment has had another room all along?