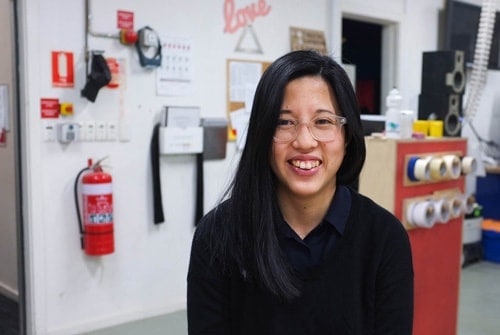 Edith Prakoso
Graphic designer
Who are you, and what do you do?
Hello! My name's Edith Prakoso and I'm a graphic designer. Some may know me as Subfauna. I've just started working in an architecture studio called ARM Architecture as their in-house designer a few months ago. I mainly work on project proposals, tender submissions, external communications, social media and occasionally some environmental graphics. I'm also passionate about colours, pattern and surface design on the side.
What hardware do you use?
At work I have to use a PC as it's an all-Windows office. At home I mainly work on a 15" MacBook Pro, but if it's a more time-intense project I would hook it up to a larger screen along with a Wacom Intuos Pro tablet that I use just as a mouse. For sketches, drawings and other experimental visuals I use an iPad Pro. I also have an AxiDraw, which I use to "draw" vector artworks for one of my ventures called Autogiraffe.
Most days I use my iPhone for taking photos and videos but also have a Fuji X100s, a Yashica T4 35mm film camera and a Sigma DP2S, an old digital camera that is a bit slow and cumbersome but still brings up the best colour I think.
I have a SONOS Play:1 for room vibes but also have my trusty AIAIAI TMA-1 headphones, that I've used and travelled around with for almost 7 years now.
And what software?
I use the whole range of Adobe CC (InDesign, Illustrator, Photoshop, After Effects, LightRoom), for most of my work. Vectoraster for colour and pattern explorations. Patternodes to generate patterns and animate them. InkScape to operate my AxiDraw. Also sometimes I look at one-off vector generating apps such as TexTuring and StippleGen. I use Procreate, Sketches, Adobe Draw, Adobe Sketch and iOrnament on my iPad Pro. I also have Procreate Pocket on my iPhone just in case I'd like to "record" colours or just feel like sketching something.
iA Writer for writing and Sublime Text for note-taking and (very) basic Wordpress/HTML/CSS editing. Trello for Kanban-style project management, which has been especially useful for my in-house position so far as I can just show everyone what I'm up to and what needs to be bumped up in priority.
There are times when I would play around with 3D programs such as SketchUp or Rhino3D, but I never use them often enough and so everytime I open them I've forgotten how to do everything and it would feel like starting from scratch again.
What would be your dream setup?
I'm pretty happy with my setup, but would ideally like a bigger space where I can have a small photography studio and a space to do hand-drawn illustrations or paintings and to just make random stuff. And a CNC router would be great too.