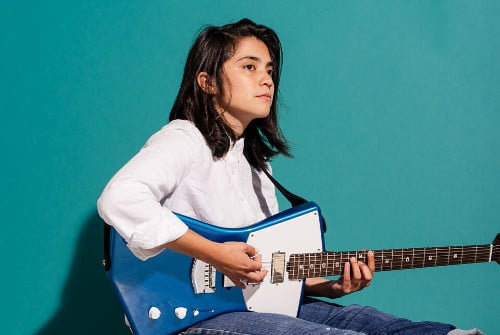 Fabi Reyna
Guitarist, founder of She Shreds
Who are you, and what do you do?
My name is Fabi Reyna: I'm Mexican, I'm a guitarist, I'm usually late and I'm the founder and Editor In Chief of She Shreds Magazine.
What hardware do you use?
Currently, at this very moment, I use...
An STV Ernie Ball electric guitar (for bass, rhythm and lead)
plugged into a BOSS RC-300 Loop station (the really big one)
into a Malekko Heavy Industries Reverb (the little baby pocket sized one) which I highly recommend
into an Earthquaker Devices Organizer (makes your guitar sound like an organ)
into a BOSS tuner (keeps your guitar sounding fresh)
into a Fender Hot Rod Deluxe amp (currently looking for something that can handle more power).
And what software?
The software of my brain and slowly but surely Ableton Live.
What would be your dream setup?
I'm not sure or really care about the technical name for all of this but I'd love to have a situation where I can sync up my loop pedal to Ableton Live so I can play and control my own beats better. I also want a setup where I can easily switch from bass tones to lead tin like tones and feel completely entrenched in my guitar - so maybe like 2-3 completely opposing amps to balance out the EQ.
I'd really just like to figure out a setup where I can easily control the instruments I'm playing on my own. I dream of playing live with 10+ instruments on stage and a wall of half stacks.