Flula
Actor, musician
Who are you, and what do you do?
I am Flula, and I am a Musiking-Actoring-Journalisting-Writering-Hosting-Hypeman Dude. Also, I am a Large Lover of Explorings and Adventures and yes, Cookies.
What hardware do you use?
I use a MacBook Pro Core i7 for my Brain-Storming of Not-Spell-Checked Novels, Songs about Disc Jockeying Dinosaurs, and also Rekordings of my Father nibbling Spätzle.
For my Musik making times, I use my Homo Sapien Vokal Chords installed by my Father and Mother in 1982, a Electro-Harmonix 2880 multi-track looper, a Line 6 DL4 Delay Modeler, a Novation Launchpad Mini, and other Items such as 16 Chop-Sticks which I have taped together to make cool slap sounds for my sassi Beats.
For Audios I use a H4n ZOOM Recorder and a SM58 Mikrofone to catch the Magik of real Sounds to insert in my Tracks, and into your Heart.
For Notes and Ideas I use a Leuchtturm 1917 Medium Notebook, the iPhone 6 Notes app, and also my Cousin Rudi's Back (Sharpies do make long lists on his Skin).
For Filming I use mostly a iPhone 6, GoPro Hero2 and Hero4, and a Canon T4i with 18-135mm EF-S IS STM lens, and a Canon EOS C300.
And what software?
For my Music I use Old Schools Software like 2006 Garageband, 1998 version of Ejay, but also Novation Launchpad for iPad, and also new things like Logic.
For Video Editing I am still loving Final Cut Pro v7.
For Editing of strange Fotos and Images I do love Adobe Illustrator and Photoshop CS.
What would be your dream setup?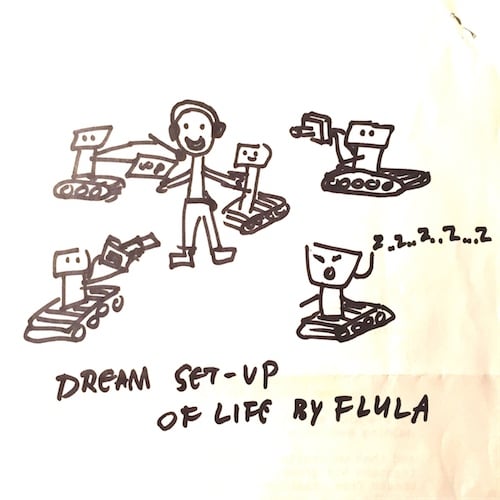 In my Dream Setup of Life, I would have 5 friendly Robots filming me 25 Hours in the Day. Also, one of these Robots is a Chef who is feeding me delishus Purèe of Broccoli and Yogurt and Pasta. Also one of the Robots is sleeping for me, so I do not need sleep, and one of the Robots does hug me all Day so am feeling enough Affection for the Day.