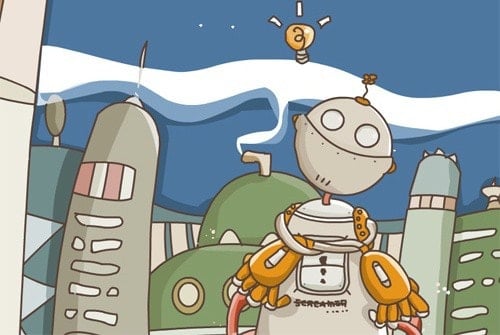 Fu
Robot illustrator, sculptor, game creator
Who are you, and what do you do?
My name is Fu. I am a New York-based robot illustrator from Taiwan. I make digital art, robot sculptures and iOS games.
My latest app is Robot 99 - a multitouch game for family and friends. The game attracted many robot lovers, thus we (my wife and I) collaborate with manufacturers to produce a series of graphic products based on Robot 99 and sell them on our online store. These products give us an opportunity to introduce my artwork to people all over the world.
I enjoy playing games. I love interactive art and robots. My favorite style is Retrofuturism.
What hardware do you use?
My tools are a 23" iMac and Logitech Mouse MX. I draw everything with the mouse. I treat myself very well with a Herman Miller Aeron chair and a Shiatsu Neck Massager. It's because I've spent too much time in a chair, which is not good. > <
I cannot stop myself from buying cleaning robots like the Roomba, Mint or Scooba. I anticipate a world full of house robots in the future. I even purchased a Simplehuman Sensor Pump just because it makes me feel Hi-tech.
I have lots of Apple stuff like the iPhone 3GS, iPod Touch 4th generation, iPad 2 with Robot 99 cover, and an Apple TV. My wife hates that everyone loves Apple, so she uses a Sony desktop, Sony phone and Asus laptop in our studio. She still needs her iPad 2 to read manga and play games, however : p
Speaking of games, we have a Sony Playstation 3, Xbox 360 & Kinect, and a Wii. Our latest favorite game is Fruit Ninja Kinect - who doesn't like to cut the fruits with their hands!
And what software?
I mainly use Adobe Flash to do everything, ex: illustration, animation making, AIR app programming, UI/UX wireframing, etc. I started to learn Flash when it still belonged to Macromedia. I really hope it can stay simple but powerful.
Two years ago, I started to learn Corona SDK for app developing. It's a fantastic cross-platform (for both iOS and Android) SDK. I use it to create Fudada and Robot 99. The programming language - Lua - is now officially my favorite programming language. I used to love AS2, but I hate AS3.
I code in Sublime Text, a neat and super fast text editor. I use Join.me for international meetings. I used to do Arduino and Processing stuff when I was still at NYU ITP. I use Zootool to collect retrofuturism images.
What would be your dream setup?
This: the Emperor 200!
Just kidding - my setup is pretty much everything I want for now. But if I can do coding and Flash drawing on my iPad, life will be perfect.