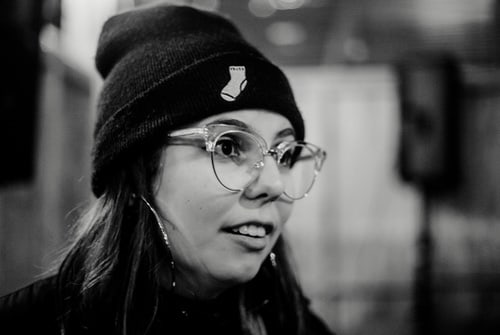 Grace Bruxner
Creative Director, Worm Club
Who are you, and what do you do?
I'm Grace Bruxner, I'm the Creative Director of Worm Club, which is a small studio with me, my partner Thomas Bowker and our wonderful composer Dan Golding. We make the Frog Detective series, which is about (you guessed it) a frog that solves mysteries. Our first game, The Haunted Island, came out in 2018 and has done pretty well, and now we're finishing the second game which comes out this year. My role on the project is art, story/writing, design and marketing, plus more things I can't remember right now.
What hardware do you use?
I use a Dell Inspiron 15 7000 gaming laptop for pretty much everything. It's robust and handles a bunch of programs, and is light enough that I can take it to events. I hate using the trackpad so I have a wireless mouse with me too.
And what software?
I use Photoshop and Paint Tool SAI for concept art and marketing materials, as well as Illustrator to create vectors of those materials occasionally. I use Maya LT for my 3D models, which has everything I need, I don't do anything too fancy. For the game we use Unity 2018.4 (which we update often) and Tom uses some coding program which I don't understand. I also use ScreenToGif for making gifs as I work.
What would be your dream setup?
Hmm... I'm quite happy with the setup I have, but it would be nice to have a laptop that didn't have ugly red LEDs in the keyboard. Something a bit girlier! And perhaps less heavy, too. Otherwise I like my setup a lot and don't have any additional needs.