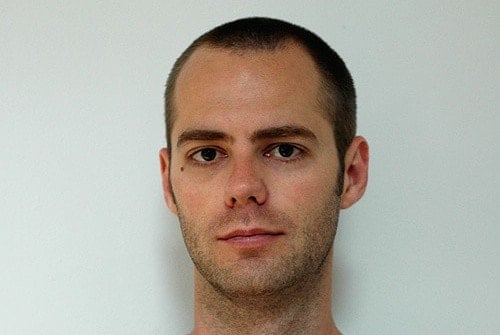 Jason Kottke
Weblogger, web developer (Stellar)
Who are you, and what do you do?
I'm Jason Kottke. I live in New York City. I have a wife and two small children. I run a website called kottke.org, which I've been doing for almost 13 years now. I am also building a web app called Stellar.
What hardware do you use?
I am typing this on an Apple Keyboard with Numeric Keypad connected to a 23" Apple Cinema Display connected to 15-inch 3.06 GHz MacBook Pro connected to a 1 Tb Western Digital My Passport portable hard drive on which I back up my files with Time Machine. (FWIW, I named my backup drive "Tardis" instead of the more traditional "DeLorean". Ladies.) Also connected to the monitor is an old simple two-button Microsoft optical mouse because I'm too lazy and set in my ways to walk the one block to the Apple Store to try a Magic Mouse. My white desk doesn't work so well with the optical mouse, so for some dumb reason I'm using a 242-page book called Proust Was a Neuroscientist by Jonah Lehrer as a mousepad. I REALLY should go and get that new mouse. [Twenty minutes pass.] I now have a Magic Mouse.
Connected to the MacBook Pro is usually a pair of Shure SE115m+ earbuds, my third pair of Shure earbuds. They cancel office noise and play music into my ears. They hurt a bit for the first week I wore them, but they're better now.
My desk is from IKEA, I think, and is too small but I can't help that because I don't have my own office. But I do have my own chair. About a year ago, I was having a lot of back problems and eventually traced the problem to the wheels on my chair. So, I switched from a wheeled chair to a plain old chair and voila, no more back issues. I ended up getting an Emeco 111 Navy Chair in green from Design Within Reach. It's made from recycled Coke bottles and I got it super marked down because it was a floor model.
I also have an iPhone 4S that I use all the time and an iPad 1 that I use frequently sometimes and at other times it just sits in one place for days and days. I have a Kindle that I use to collect dust.
And what software?
Three browsers running all the time on OS X. Safari is my blogging browser, Firefox is my development browser, and Chrome is my fun browser. No, I'm serious! I also use Terminal, Mail.app (though I mostly check email on my phone these days), TextMate, iTunes (cannot get into Spotify or Rdio for whatever reason), Photoshop (grudgingly), Sequel Pro, and very little else.
What would be your dream setup?
Bigger monitor. I've been eyeing the 27-inch Cinema Display but can't quite justify pulling the trigger on it. I'm a slow typer so I'd like something to help me go faster without having to quit working for two months while Mavis Beacon fixes all my bad habits. But mostly I'm a fish in water... my setup is all I know so it suits me well.