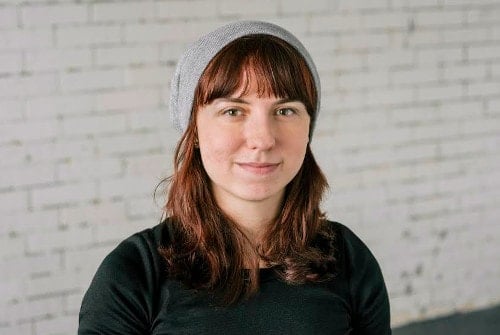 Jenn Bane
Community lead (Cards Against Humanity), podcaster (Friendshipping)
Who are you, and what do you do?
I'm Jenn! I live in Chicago, IL. I'm the community lead behind Cards Against Humanity and our new company, Blackbox.
My job is hard to explain. My main focuses are philanthropy and making jokes on the Internet. More broadly, that's community building, playtesting, copywriting, editing, and advertising. I help build campaigns like our holiday promotions and scheme silly pranks, like the time we sent poop in the mail to a bunch of people for Black Friday.
I also organize the Science Ambassador Scholarship for women, and I co-host a podcast called Friendshipping about friendship and mental health.
What hardware do you use?
I love my 13" MacBook Air. She has never let me down even though I've dropped her a dozen times. I also use an Apple Thunderbolt Display monitor.
To record Friendshipping, we use the studio recording spaces in our office. It houses six Shure SM7B microphones with Cloudlifter CL-1 preamps, and an Allen & Heath 16:2 Mixwizard mixing board connected to an iMac. We use a Focusrite Scarlett 2i2 to bring in Skype calls. In our smaller studio, we have four Shure Beta 87A microphones with a Tascam US-2x2 that works with any Apple Computer.
I need to include that I'm not qualified to touch any of these things, and I would be nowhere without our amazing producer, Alex Cox.
And what software?
Slack for team communication, Basecamp for project management, TextExpander for making email as efficient as possible. I also use iA Writer to write without distraction, CleanMyMac for upkeep, 1Password for security, and recently we've been trying out Front for answering Cards Against Humanity support emails.
What would be your dream setup?
Cards Against Humanity shares a work space in Chicago with the most talented and generous designers, writers, photographers, developers, comedians, teachers, musicians, and podcasters. Our rule for the space is, "if you can teach a skill to someone who wants to learn, you do it." We often just quit working to play games together and we cook meals for one each other all the time. I feel very, very lucky to already be living my dream setup.
For the days I'm feeling introverted and sick of the Internet, though, I wouldn't mind a bungalow on an island somewhere.