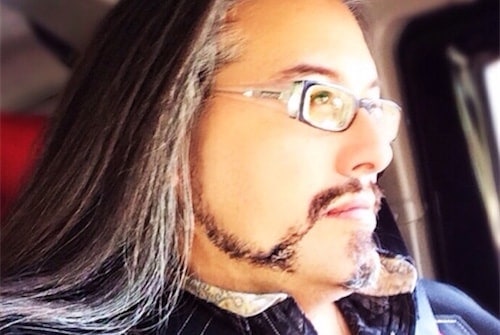 John Romero
Game designer (Doom, Quake), developer
Who are you, and what do you do?
Hello, I'm John Romero and I'm a game designer, programmer, level design, and audio engineer all rolled into one person. I work at my game company Romero Games Ltd. based in Galway, Ireland. I just finished a game called Gunman Taco Truck (desktop & mobile) and a game jam release named July 4, 1976. I'm currently working on a big multi-year game. I've been making games since 1979 and love what I do every day. It's the best job in the world. I work with my wife, Brenda, who has been in this industry since 1981.
What hardware do you use?
I've been using the same Mac Pro since it was released three years ago and it's still incredible. It's a 2013 Mac Pro (the black trashcan) with 8-core 3.0Ghz CPUs, 64GB 1866Mhz RAM, two FirePro D500 (3GB each), 1TB ePCI SSD, with two Thunderbolt monitors and one 4K monitor. I have 12TB RAID for huge storage, and Bose speakers.
I also use a PC with an AMD Ryzen 1800X, 64GB DDR4 3000Mhz RAM, 512GB SSD, 2TB SSHD, and Nvidia GTX 1070 (8GB) running Windows 10.
I have my 4K monitor hooked up to the PC, Mac Pro, and Switch console. I also use my iPhone 7 Plus when I'm not on my computers. I love Apple's ecosystem because iCloud keeps me updated constantly on my MacBook Air, iPhone, iPad, and Mac Pro all the time. When I change files on my desktop that's reflected on all my devices. I can even look at my desktop files from my iPhone because iCloud syncs it all. I love it.
And what software?
I use a ton of software. Here's a list: Xcode, Pages, Numbers, Keynote, Sublime Text, Corona SDK, Unity, Final Cut Pro, Versions, Perforce, VMWare Fusion, Messages, REAPER, Transmit, Coda, Dropbox, Skype, Dashlane, Slack, Terminal, Assembla, Airmail, Spark Mail, Google Docs, Pixelmator, Pixen, TexturePacker, Particle Designer, Tiled, iTunes + Music + Match, Screenium, Steam, Twitter, Facebook.
When I have to use Excel, Word or PowerPoint I have an Office 365 subscription.
What would be your dream setup?
My dream setup would be a new Mac Pro, since everything else is already part of my dream setup. Apple hasn't announced a date for the new Pro, so I'm just waiting. I have no complaints, however, because my Mac Pro feels as fast as day one because macOS is so well-designed. No registry.
Office-wise, we are located in city center Galway. That means we can walk for about two minutes and be right in the middle of town where there are a hundred food options. Galway is one of the friendliest towns in the world. We moved here in 2015 and plan to stay.