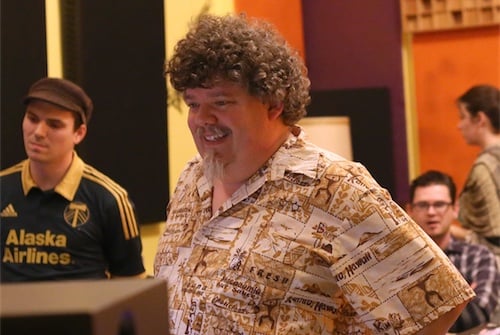 Larry Crane
Music producer (Jackpot!), Editor (Tape Op Magazine)
Who are you, and what do you do?
My name is Larry Crane. I am the editor and founder (1996) of Tape Op Magazine; a mag about the art of recording music. I founded Jackpot! Recording Studio in 1997 and have produced, recorded, and mixed many artists, including Elliott Smith, Sleater-Kinney, The Go-Betweens, She & Him, and many more. I am also a musician, and have made records and toured as a band member. I also do instructional videos about music recording and mixing for lynda.com.
What hardware do you use?
Many analog recording devices. A 32 channel Rupert Neve Designs 5088 console allows analog mixing and monitoring, even of digitally recorded music. I have three Otari tape decks set up for 24- and 16-track on 2-inch tape and a 1/4-inch deck for mixing to. I have BURL and Avid converters for taking the sound from analog to digital and back. A vintage EMT 140 plate reverb provides great effects. I have over 100 microphones of all types.
And what software?
I use Pro Tools 12 HD as it's the most commonly used in music recording. I am a huge fan of iZotope RX5 which allows detailed sound restoration and editing. The Universal Audio UAD platform hosts some of my favorite plug-ins for mixing use.
What would be your dream setup?
After 20 years of running a commercial studio I feel I have surrounded myself with amazing tools. I wouldn't mind a Pro Tools HDX system in order to cut out latency issues, but the cost is ridiculous and it also limits your system from running other DAW software, like Logic. Annoying. Buying and maintaining computer systems for a pro studio is frustrating and not very satisfying compared to buying and using quality analog gear, but it is how the marketplace works now.