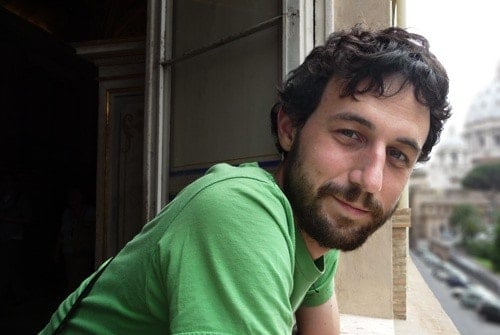 Matt Hammill
Artist, animator, game designer
Who are you, and what do you do?
I'm an artist, animator and game designer. I've just released the iOS game Gesundheit!, developed in collaboration with Revolutionary Concepts. In the past I've been lucky enough to work on a variety of projects ranging from children's books to TV commercials and short film.
What hardware do you use?
I have a love-hate relationship with my souped-up 16" Dell Studio XPS laptop, which for the most part handily takes care of my bloated art and animation files, but on the other hand has the nickname Crashy McFreeze because, well, yeah. I hook it up to my huge cheap 28" I-Inc monitor and my huge cheap Mustek A3 scanner. And I adore my 6x11 Intuos3 tablet.
I also have an old Dell Inspiron laptop that I use for music and sound recording, and for that I hook it up to an Alesis MultiMix 8 USB mixer.
For iOS game stuff, I test on 3rd and 4th gen iPod Touches, as well as an iPad 1.
And what software?
On my Studio XPS I run Windows 7 and use Adobe CS2 all the time, especially Photoshop. The only thing I've brought up to date with CS5 is After Effects, because of the sweet, sweet puppet tool for character animation. I also use Toon Boom Studio 4.5 for animation on some projects, and in the past I've done a some game development with the freeware Adventure Game Studio.
On my secondary laptop I run Windows XP and for recording I use the old old version of Cubase LE which came packaged with my mixer when I bought it five years ago. For what I need it for, it works wonderfully.
For browsing I use Chrome, for docs I use Open Office or Google Docs, and for Twitter I use Twhirl.
What would be your dream setup?
I'd love to get a high-end MacBook Pro and have it run alongside my PC and be able to switch them back and forth into my setup. With SSDs all around. A couple of different sized Cintiqs wouldn't hurt either! And while we're at it, Apple should partner with Wacom to make a stylus-based WacPad.