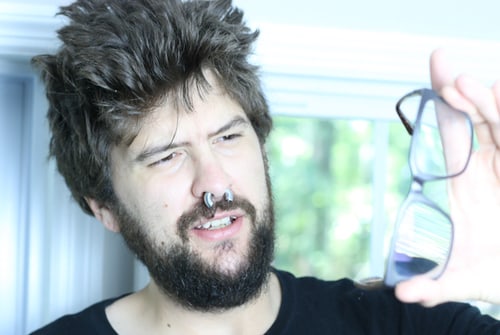 Mr. Bill
Music producer, DJ
Who are you, and what do you do?
My name is Bill Day. I produce music under the name Mr. Bill & Electrocado (w/ Ryanosaurus). I create educational content on YouTube & mrbillstunes.com that revolves around electronic music production, and travel the world playing electronic music to people in clubs, live venues & festivals as well as doing masterclasses at schools.
I run 2 record labels, Billegal Beats & Billegal Sounds, which are branches of my online community & release electronic music & sample packs respectively.
I host the Mr. Bill Podcast, where I chat to guests every Monday. I stream on twitch.tv/mrbillstunes very intermittently.
What hardware do you use?
I use two different computers - when I'm in the studio I use a custom rack-built PC & when I'm travelling I use an MSI GS63VR 15" Stealth, both running Windows 10.
I use a Razer DeathAdder mouse & a Goliathus mousepad whilst travelling & whatever MSI mouse my laptop came with & a SteelSeries mousepad in the studio. My studio is full of GIK Acoustics panels. I use a DJM-900NXS or 2 live & just USB straight into that bad boy, then set 4 audio-tracks in live to send straight to that. I use 2 x CDJ-2000's & a DJM-750 in my studio for practice (mainly cos they were cheaper). I have an Argosy Halo desk in my studio & some 43 inch Acer monitor (if that counts?).
I use many different soundcards, the main 3 being an RME Fireface 802 & Yamaha AG03 (for streaming to Twitch) in the studio & a NI KOMPLETE AUDIO 6 whilst travelling. I use Barefoot MM27 Gen 1's in the studio & Audeze LCD-X's whilst travelling. When I'm on a plane I use Shure SE215's.
Guitar-wise I use a Schecter Demon-7 & an Axe-FX II, as well as some Guild acoustic guitar. If I'm running DSP in my studio I'll use a miniDSP 2x4 + a Metric Halo ULN-2 (for the D/A conversion) - however, at the time of writing this I'm not. I also use a modular Eurorack system in the studio. I have an Absinthe Green Pearl Masters in my studio which I use sometimes for recording breaks (usually with a single overhead SM57). I mostly use SM57's for everything)
And what software?
I regularly use (looking at my taskbar now :p)
VST Plugins (hold onto your asshole):
What would be your dream setup?
Dream setup would likely just be a fairly flat room with really nice speakers that's comfortable to sit & work at and doesn't feel too sterile (like some studios can) with a really fast computer that is nicely file managed and has lots of nice software on it. I actually don't really like the classic sterile studio vibe - I prefer working in bedrooms in houses for some reason, so it'd have to be some hybrid between a bedroom and studio vibe.