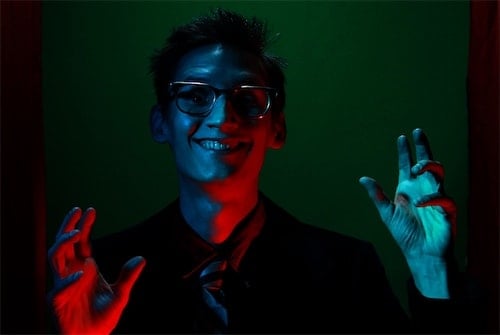 Neil Cicierega
Animator, musician, web artist
Who are you, and what do you do?
I'm Neil Cicierega, and I make all sorts of fun and silly media for the Internet. I started in 2001, when I was 14, with Animutations, a series of bizarre Flash animations that went viral and sparked a minor web art movement. I later created original music under the name Lemon Demon, and many YouTube videos including the horribly popular Potter Puppet Pals. Most recently I've created various weird side blogs, and a pair of surreal mashup albums called Mouth Sounds and Mouth Silence.
I continue to make original music, YouTube videos, and animated GIFs. I have a Patreon right here.
What hardware do you use?
My computer is a PC with an Intel Core i7 920 2.66G, 12GB of RAM, and an NVIDIA Quadro K2000 graphics card. I built it myself a few years ago based on a guide for an editing rig. My main monitor is a 23-inch Samsung SyncMaster. For the sound card, I have an M-Audio Delta 1010lt, which has all its inputs and outputs hanging out the back of the PC like spaghetti. I feel like a serious hacker when I plug anything in. On my desktop, I have a Klipsch ProMedia 2.1 speaker system and Audio-Technica ATH-M50 headphones.
For recording MIDI, I have a M-Audio Axiom 61 key controller. For recording audio, to avoid computer noise, I have a bundle of 25-foot cables -- monitor, USBs, audio -- running to a separate room where there's a second monitor, keyboard, mouse, a Marshall MXL V67G condenser mic going through a PreSonus TubePRE for vocals, and some older junkier Creative computer speakers. I also have a Behringer AMP800 on my desktop to quickly patch audio output between the two stations. (And the Win-P key to switch screens quickly.) For a laptop I have a 15-inch Toshiba.
My camera is a Canon EOS 7D. I bought it when DSLRs were an exciting new concept and it's served me really well. I never use the stock lens, but I have a Tamron AF 17-50mm f/2.8, Sigma 24mm f/1.8, and a Tokina 11-16mm f/2.8 which seem to work for what I shoot. I use knockoff batteries, and Kingston 16GB memory cards (the ones I have seem to be discontinued.) My tripod is a Manfrotto 701HDV head on 055XPROB legs, which have a neat feature for pointing the camera straight down at the floor which can come in handy for things like animation. I have a wall with a green screen pinned up. For lights I usually just use cheap clamp lights.
For portable audio recording I use a Zoom H4n digital recorder, and a Rode NTG2 shotgun mic. When I'm filming myself, I attach a Lilliput 7-inch LCD monitor and flip it forwards. I have a cheap Fender Squier guitar, which I usually plug directly in to use with amp sim software. I have tons of little instruments and synths, an electric violin from a yard sale, and maracas from Aruba with Bart Simpson painted on them. I carry Moleskine reporter-style notebooks, which are nicer when you're left-handed, and a Samsung Galaxy Note 3. I share an Epson R2000 printer with my wife, who's a comic book artist, and we both make large art prints to sell at conventions and the like.
And what software?
Windows 7 Professional, 64-bit. I make my music in Cakewalk Sonar X3 Producer. I've been using their software since I was a kid. My dad's a guitarist and he always had a version installed, so I learned on that. Most instruments and effects I use are VST plugins. Toontrack EZdrummer for drums, Kontakt for high-quality sample packs, and freeware like Synth1 for most synths, Fretted and LePou's guitar amp sims, and much, much more... There's a huge amount of useful and fun plugins out there, and many are free. Oh, Celemony's Melodyne pitch correction, maybe. Adobe Audition for mastering and various audio manipulations.
For video and graphics, I'm still on Adobe Creative Suite 5. Photoshop all the time. Premiere Pro for video editing. A lot of my video projects rely heavily on After Effects.
I'm currently making a game as a side project in Adventure Game Studio, which I last used when I was 15, with pixel art made in Aseprite and GrafX2.
Gmail, Twitter, Tumblr, Facebook. Amazon Prime. I use TuneCore to submit my music to online stores, Bandcamp for a self-managed music store, and SoundCloud to host questionable mashups.
I browse with many tabs open in Chrome, and usually have an Incognito window open as a scratchpad for incessant Googling whims. I don't know how I worked before Dropbox or avoided headaches before f.lux. I replaced notepad.exe with Flo's Notepad2. I have most Windows system sounds turned off, and my desktop is blank white with "Show desktop items" permanently unchecked -- I access everything from pinned taskbar icons, or by clicking Start and typing the first few letters. My default media player is still Windows Media Player, or VLC for trickier formats. I have iTunes but never, ever use it. At my wedding this year, I ran our whole playlist on Winamp.
I make system backups with Acronis True Image. I also keep backups of old hard drives dating back to the mid-90s, so I'll have those grade school book reports and extremely bad attempts at fiction with me forever.
What would be your dream setup?
The one I've got is cobbled together in a sloppy, mismatched fashion, but I don't think any other kind will ever suit me. I work in all media, rarely focusing on one thing over the course of a day, so I like having everything I need on one system, and all my stuff within arm's reach. My dream setup would probably just be more stuff.