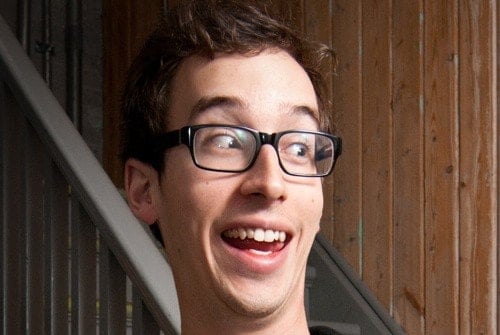 Renaud Bédard
Game developer (FEZ)
Who are you, and what do you do?
My name is Renaud Bédard and I'm working on the game FEZ for Xbox LIVE Arcade at Polytron, have been for the past 4 years or so. I also enjoy game jamming with friends (a couple collaborations with fellow Montréalers Aliceffekt and No Fun Games).
What hardware do you use?
I do all my work on a PC laptop, an Asus N51Vn that I bought in 2009. It has a Core 2 Duo Intel CPU, and the best mobile GPU I could find for my budget at the time, which is a GeForce 240M 1GB, and a 15.4" screen at 1366x768. It's bulky.
At work I have a big external HP monitor running at 1680x1050 and I feel super naked without it, when I work from home or anywhere else. So my primary monitor is my external one, positioned on top of my laptop monitor, both horizontally oriented.
I also have to use an XDK (Xbox Development Kit), an old 2008/2009 model. The grey one in this picture, the white being a test kit (we also got one of those hooked up to the office TV).
My mouse is a pretty old wired [Logitech MX310][mx 310] but I wouldn't trade it for anything else, I've had two of that same model and it feels just right. I used to have an external keyboard, the Unicomp Customizer 105 (the new IBM Model M!) in French Canadian layout, but I spilled sugary water in it and the spacebar died. Cost a fortune, and shipping it back for repairs is almost as costly as ordering another one, so it just sits in its box at the office until I have 100$ to burn... Anyway it was really noisy and I suspect it was extremely annoying to Phil. So for now I just use the laptop keyboard and burn my palms on the hot plastic.
I have pretty standard/crappy Altec Lansing 2.1 speakers hooked up, but usually listen to music/game sounds with my trusty eggshell Panasonic RP-HTX7 headphones. Phil has the exact same model by coincidence.
And I always have a white Wired Xbox 360 controller plugged in.
I own a slow-ass iPhone 3G, 8GB.
I sit on an Aeron Chair, probably the best sitting-all-day chair I've sat on.
And what software?
My laptop runs Windows 7, Macs aren't really an option when you work with XNA or the Xbox.
I do 99% of my programming in Visual Studio.NET 2008, and I have one extension installed, Resharper 6. For HLSL, XML and the such, I like Programmer's Notepad. I profile my code with ANTS Performance Profiler, and the free CLR Profiler to check for garbage generation. I gave the SciTech .NET Memory Profiler a shot but haven't come back to it in a while.
When I don't work on FEZ and still do game development I use Unity because it's so easy to work with and also supports C#, which is my language of predilection.
I use Chrome and always have one instance opened with at least a GMail app tab, and usually Twitter+Facebook+Reddit tabs. I like to use Google Docs to share task lists and track stuff.
I use Dropbox to share files with friends and collaborators, FileZilla for FTP, Windows Media Player 11 for music, VLC for movies, Fraps (licensed!) for video capture, Audacity for simple audio editing, Photoshop for image editing, Irfanview for image viewing, uTorrent for pirating, some XDK-related tools (GameConfig, XLAST, xbWatson) for Xbox development, MSN Messenger and Google Talk for chatting, Skype for conference calls with Microsoft, Handbrake for video compression (to x264), VirtualDub to split videos and do minimal editing.
I recently found the Zeta Resource Editor to play with .resx resource files and many languages at once, it's free and quite handy.
For bugtracking I have to connect to Microsoft's Product Studio database by Remote Desktop-ing to their Redmond servers, it's slow and it suuuuucks. We rent an SVN server from SourceRepo, for no particular reason. It just appeared in our Google searches, it's pretty cheap and reliable. I just didn't want to go into the trouble of setting an SVN instance on our web server, and I don't think it's even possible with MediaTemple (our provider).
What would be your dream setup?
I think I'm able to wait for the next MacBook Pro line-up update before changing my laptop. I'm thinking about Origin PC laptops too, they seem pretty badass. Macbooks are just so hard to beat build-quality-wise... and it would be nice to be able to toy with iOS development.
I could use more screen real estate when I don't have an external screen, so definitely a 1920x1080 screen next time.
I'm sticking to a laptop. Keeping everything with me is a huge plus, I move around with FEZ a lot.
I absolutely need to change my phone this year. With the iPhone 4S announced, looks like it's going to be that, in 32GB please. I'm curious about the Nexus Prime but changing contract & provider is troublesome.
I don't trust wireless mice so I'm fine with the mouse I own.
I'd like to get really good audiophile headphones, like the Grado SR80i or AKG K702. It's not exactly essential to my work but since I usually wear headphones all day, it helps to have a good-sounding and comfortable pair.