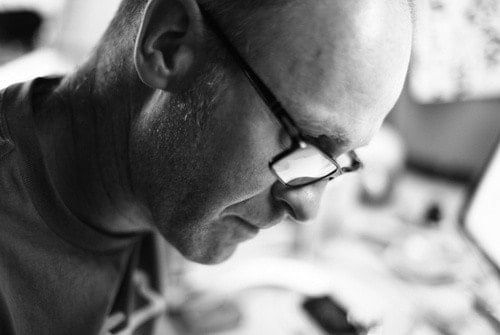 Rhys Newman
Designer (Advanced Design @ Nokia)
Who are you, and what do you do?
I'm Rhys, I'm Welsh, I live in Los Angeles, I'm a designer, an artist of sorts, and an obsessive evangelist for all things bicycling. I currently lead Advanced Design for Nokia - we have two studios, one in LA and one in Silicon Valley. I am also co-founder of 18milesperhour.com.
What hardware do you use?
A wall and a desk. I love studios and desks that reflect designers projects and priorities, and the connections and conflicts that may bring. I call them messy, my friend and colleague Julian Bleecker calls them curated. A project should feel palpable in a studio, out and up, not just on screen. So for me, a huge wall where one can pin up, work on, layer, tear down, and build back up again is essential for me to work in a studio, and essential for good projects. If creativity is about connecting ideas and things that are not seemingly connected, a wall and curated desks can facilitate this creativity. In the studio, we have those powered desks that allow you to stand or sit, or hover in between on a stool. They're good - standing at your desk is nice.
For drawing and thinking through drawing I always carry two Moleskines, one for drawing, one for notes. I also like the scale of A4 Muji Sketchbooks for larger, more illustrative work. I buy Pilot Hi-Tech C drawing pens (0.25 and 0.4) in bulk, as they are always difficult to get hold of (maybe because everyone buys them in bulk). Rexel Cumberland Derwent Graphic and Tombow (Homo-Graph) Mono Pencils.
Nokia 360 speakers for music and radio out loud in the studio; Sony MDR7506 Professional Large Diaphragm Headphones, the sound engineer's headphone of choice according to my mate Jim (who is one) for listening to podcasts and traveling.
As for tech hardware: Nokia Lumia 900 - obviously I'd say this, but it's quite a beautiful bit of product design (I had nothing to do with it) and I've come to really love the WinMo Metro UI on it. It's alive. A MacBook Pro for work, Epson 2400 Photo Scanner for scanning sketchbooks, Nikon Coolpix AW100.
And what software?
In the studio, all the stock designers software that you would expect with a multidisciplinary design team. Personally, I use Photoshop and Illustrator for tweaking drawings; I have just recently installed Alias on my MacBook to dust off my 3D modeling skills. We are using Powerpoint less and less, even though the corporate machine can't live without it - we are increasingly using Preview or the Acrobat viewer of very hi-res photographs on the studio wall to communicate and share projects in progress, and Quicktime films as a presentation tool. Spotify and Rdio for music, Outlook for work emails, Gmail for personal. Both Skype and Microsoft Lync for video calls.
What would be your dream setup?
This is a constant topic of conversation amongst close friends and colleagues.
My preference would be to start with a small studio, with a great big wall, a large kitchen table, a small kitchen. Lots of light, a modelshop and protolab next door. Good creative people, no dickheads, lots of good conversation, laughter and music, and a good few bicycles by the door. A few big projects, lots of small personal projects that blur the boundaries. And if there's one piece of technology currently missing, it's a digital product that feels like my pen and sketchbook.