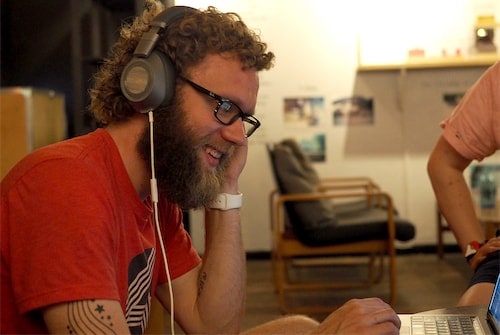 Stephen Hackett
Co-founder, Relay FM
Who are you, and what do you do?
I am the co-founder of the Relay FM podcast network. We are home to nearly 30 nerdy podcasts ranging from covering companies like Apple, Google and Microsoft to talking about design and development. We have a show about the space industry and another about fountain pens.
That last bit isn't a joke, I promise.
My time is split between hosting several podcasts on the network and running the business side of things with my co-founder.
My side project is writing my blog, which is named 512 Pixels, and hosting videos on its spin-off YouTube channel. The site is ten years old, and I can't imagine my life without sharing nerdy stuff on it at this point.
My side side project is building a pretty extensive collection of Macintosh computers. Many of my machines have been featured on 512 Pixels over the years. Also featured on the site: my dogcow tattoo.
I live in my hometown of Memphis, TN with my wife, our three children, a dog and a Roomba.
What hardware do you use?
The heart of my setup is an entry-level iMac Pro. I converted from the latop-and-a-big-screen lifestyle when I built my studio in 2016, but always wanted more power than the 5K iMac could provide.
My notebook is a 2018 13-inch MacBook Pro, and I carry whatever the newest iPhone is at the moment. Right now, it's an iPhone X that is real scratched up.
I record my podcasts using a Shure 87A XLR microphone with a shock mount, on the K&M 23850 Microphone Desk Arm. The microphone is plugged into a Rolls mute switch, then into a Sound Devices USBPre 2 interface, via a Schiit Wyrd.
I use the boring-but-reliable Sony MDR-7506 headphones with Schiit's Magni 2 headphone amp.
That's a pretty expensive setup for podcasting, but hey, it's my job and my CPA said it was cool.
On the video side, I am shooting in 4K on a Sony α7r II I bought second-hand from a friend. 4K looks awesome, and with the iMac Pro, I can edit it without wanting to throw my computer out the window. I have a couple of lenses and a shotgun mic for it as well.
In my front left pocket, there is always a Field Notes notebook, with a Uni-ball Jetstream Ballpoint Pen clipped to it.
And what software?
I'm all-in on macOS.
I record my audio (and audio from Skype) using Audio Hijack Pro, with Ecamm Call Recorder running as a backup. I edit in Logic Pro X.
On the video side, I edit in Final Cut Pro X because one time I opened Premiere and got scared.
As far as writing, I am currently creating Markdown in iA Writer, with copious amounts of research saved in Apple's Notes app.
What would be your dream setup?
As great as my iMac Pro is, I'd love to live in a world where I could have this much power in a Mac notebook that docked into a big display when I get to the studio. Basically, the PowerBook Duo.