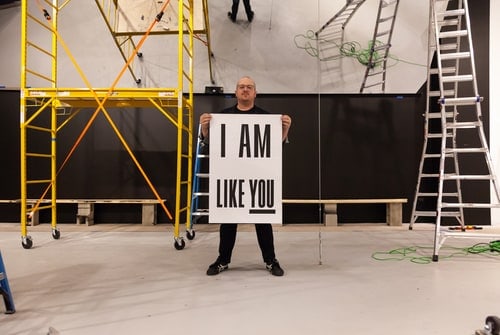 Tanner Woodford
Founder, Design Museum of Chicago
Who are you, and what do you do?
I'm [Tanner Woodford](https://tannerwoodford.com/ "Tanner's website.), founder and executive director of the Design Museum of Chicago. I believe design has the capacity to fundamentally improve the human condition. In 2012, I opened Chicago's first pop-up design museum as a way to celebrate 
the impact of design while making it accessible to everybody. I also teach a class at the School of the Art Institute of Chicago called "Design Thinking for Social Change," where each student selects a social issue, spends a semester making a research book about it, then tries to make an actual impact by solving a self-identified problem. In the time between these two gigs, I paint typographic murals.
What hardware do you use?
Here's a short selection of a long list of hardware I interact with on the daily.
Drafting table once owned by Daniel Burnham
2006 Toyota Corolla Sedan (silver)
MacBook Pro (15-inch)
Apple iPhone X
Silhouette CAMEO 3 with roll feeder

4 Scalpel (#20 blade)

Sony MDR-V6 studio monitor headphones
Gerber EAB folding pocket knife
Selection of rulers, t-squares, brushes, and hand tools
And what software?
In no particular order — iOS, macOS, Chrome, Slack, Baby Connect, Spotify, Overcast, Dropbox, Drive, Hue, Instagram, Gmail, IA Writer, Silhouette Studio, 1Password, Adobe Suite (Illustrator, InDesign, Photoshop), Keynote, Coda, WordPress, Stripe, Square, QuickBooks, FaceTime, SpotHero, Google Maps, Sonos, Hulu, and Netflix, to name a few. That said, I prefer the time that I am not using software much more.
What would be your dream setup?
Covered in puppies.