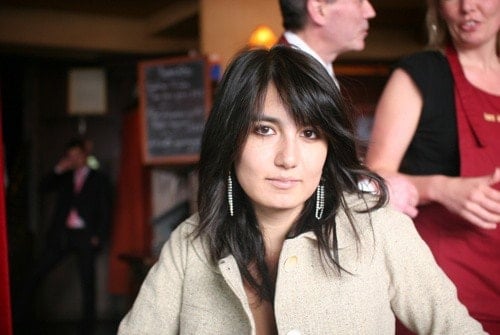 Thessaly La Force
Writer, editor (The Paris Review)
Who are you, and what do you do?
I'm a writer and an editor. I'm currently the web editor of The Paris Review. This fall, I'll be leaving my job to join the Iowa Writers' Workshop where I'll be working on a novel. (Eep!)
What hardware do you use?
I got my first Mac (15", 2003) in college and I haven't changed since. At home, I have a MacBook Air (first generation, 13") and a MacBook Pro (15"); at work, an iMac. I've also got an iPhone (second generation). I also like to use Pilot pens and Moleskines. I like them at 8" x 11" and smaller, always the really thin, soft-cover "cahiers."
Also, I don't know if this counts since I'm a complete amateur, but I started watercoloring again. I'm a huge fan of the Winsor & Newton Cotman traveling kits!
And what software?
For The Paris Review blog, I use Wordpress. Most of my writers file in Word. I'll edit there or in Wordpress, depending on how important it is to incorporate illustrations or photography. I prefer Wordpress because of the preview function, but it's not as easy to track changes. I'm on Twitter all day (I like the Tweetie for Mac application) and I like to keep Bit.ly Pro open to have an eye on traffic. I work in Chrome. If I'm not on gchat, I'm not at my computer.
I use Adobe Photoshop CS5 (Content-Aware Fill sadly does not work as well I had hoped) for work, and if I'm feeling serious, I'll edit photos in Lightroom. Everyone else in my office knows how to use InDesign, but since I'm entirely Web, there's never been the need for me to learn it.
I'm also working on this book called The Ideal Bookshelf with the artist Jane Mount. Jane is painting the bookshelves of 100 creatives and I'm interviewing them. It's a lot to manage. Google Docs is perfect if you're toggling between multiple computers. Jane and I both live in the East Village, but we do 99% of our communication and work virtually, which amuses me.
On my personal blog, I like to use Tumblr. When you have a small readership and you're mostly talking about yourself, there's something nice about that built-in social power. I can blog about something I'm doing, it'll get picked up, and I won't have done the annoying self-promotional tweets and posts on Facebook.
As for my own writing, I like to do it long hand because usually, if I'm typing on a computer, I will delete everything. I also try, like Lynda Barry, to write as sloppily as possible so it's almost impossible for me to read what I'm writing. Eventually, I slowly type it all up into Word or Google Docs.
What would be your dream setup?
Like Truman Capote, I love working in bed. Here is a little secret: beds are not only comfortable for sleeping, they're comfortable when you're awake too! But a desk is crucial. You can't do all your work on a bed. And apparently, it's bad to mix your sleeping space with your mind space. So ideally, a beautiful office filled with all my favorite books and a desk with a nice laptop. The desk would look out of a window, and nearby there would be a day bed with a sleeping cat and a very warm blanket.