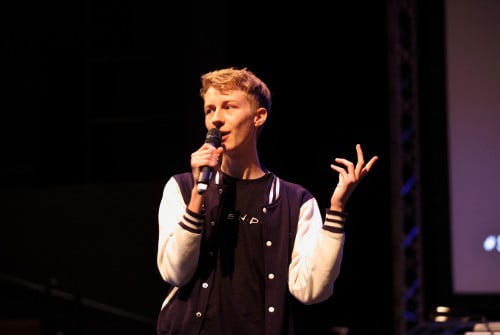 Charlie Lyne
Filmmaker, film critic
Who are you, and what do you do?
My name is Charlie Lyne. I'm a filmmaker and film critic, based in London. My films include Beyond Clueless and Fear Itself, both of which were made by collaging together a bunch of existing movies.
What hardware do you use?
Many of my films include no newly-shot material whatsoever, so they come together almost entirely on my iMac (27 Inch, Late 2012) --- which I use in conjunction with a pair of not-bad M-Audio AV 40 monitor speakers and an extra 24" Samsung display monitor that's become horribly warped by its proximity to various other bits of technology.
I tend to buy a new hard drive for each film I make --- usually it's whichever 500GB portable drive is cheapest on Amazon at that moment, but sometimes I need larger drives. On Beyond Clueless, I was working with 400 hours of raw material, so I spent about a grand on this mammoth block called the Lacie 5big Thunderbolt, which stored 10TB and was the biggest one available at the time.
I record audio on my Zoom H5, which I love, and more recently I've started shooting original video for my films, on a Panasonic Lumix GH4. I chose it because it was the only camera I could find that would let me record for 10 hours straight, which I needed to be able to do when making my protest film Paint Drying.
My new favourite toy is this bit of aluminium from China, which lets you produce vaguely acceptable tracking shots on the cheap!
And what software?
I edit all of my films on Final Cut Pro X, which I love for its unashamedly simple, visuals-led interface. When I'm making a collage film, I use a haphazard combination of PavTube ByteCopy and MakeMKV to rip DVDs and Blu-rays to Pro-Res 422 for editing.
Once I finish a film, I use DCP-o-matic to generate a Digital Cinema Package, which I then put on a EXT3 formatted USB key using an old MacBook with Ubuntu installed on it.
Other bits of software I use for creative purposes include: Final Draft for screenwriting, Jubler for subtitling, Transmit for FTP access, Microsoft Word for writing (10pt Helvetica Neue with line spacing set to 1.3), uTorrent for torrenting, and Super Empty Trash for emptying the unbelievably stubborn OS X trash bin.
What would be your dream setup?
I wouldn't have it any other way.