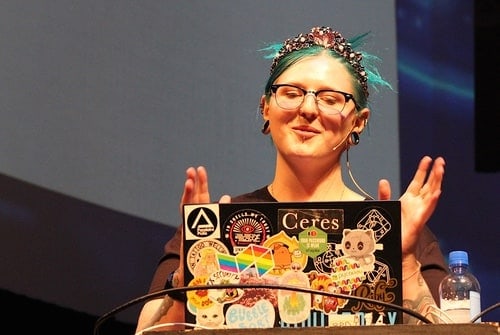 Eliza Sorensen
Engineer, co-founder (Assembly Four)
Who are you, and what do you do?
I'm Eliza Sorensen or [@zemmiph0bia](https://twitter.com/zemmiph0bia "Eliza's Twitter account.") everywhere else. I'm an Infrastructure & Security engineer based out of Melbourne, Australia and I'm a co-founder of Assembly Four who created the sex work friendly social space Switter.at and modern advertising platform Tryst.link.
What hardware do you use?
It seems like these days I'm always on the move so I rely heavily on my Lenovo X1 Carbon, Google Pixel 3 XL, Audio Technica ATH-AR5BT headphones, powerpack, notebook and Lamy Safari.
When I'm at my desk, I have access to two Dell 27" monitors, a Ducky One mechanical keyboard (cherry brown switches) and a Logitech G700 mouse.
And what software?
I'm all about Linux on the desktop, my operating system is Ubuntu, my shell is zsh, I connect with ProtonVPN, I surf with Firefox, I keep my secrets in 1Password, I listen to tunes through Spotify, I manage my time with Toggl and tasks with Clubhouse, I write with vim, I code in Sublime Text 3 and I keep my documentation close with Zeal.
What would be your dream setup?
I'm pretty happy with my current setup but I wouldn't mind going back to a keyboard that has cherry blue switches.. but I don't want to drive my partner up the wall.